American tank M4A3E8 SHERMAN Easy Eight COBI 2533 - World War II
| | |
| --- | --- |
| Manufacturer: | COBI |
| List Number: | COBI-2533 |
| EAN: | 5902251025335 |
| Availability: | In stock - ready to ship |
| Price excluding VAT: | 839 Kč |
| | 1 015 Kč |

You can see higher resolution images in the files and links section.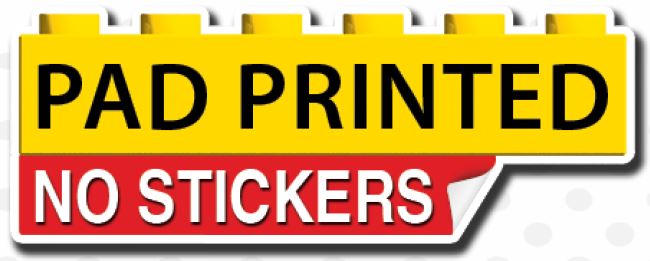 You know that:
The Easy Eight version had a "wet" ammunition storage behind the water baffle compared to previous versions ?

With each successive version of the Sherman, the weight of the tank increased, so the chassis had to be redesigned?

In total, 49,234 Shermans were produced in various versions, of which about 254 were of the Easy Eight type?

Only the Soviet Union produced more tanks and that was the T-34 model ?

Sherman tanks were also in the armament of the Czechoslovak Independent Armoured Brigade, consisting of young men who managed to escape the occupation ?

This armoured brigade relieved the British group at the siege of the fortified port of Dunkirk in August/September 1944 ?

This tank liberated Pilsen?

The famous FURY from the movie Iron Fist was the M4A2E8 ?
Technical parameters: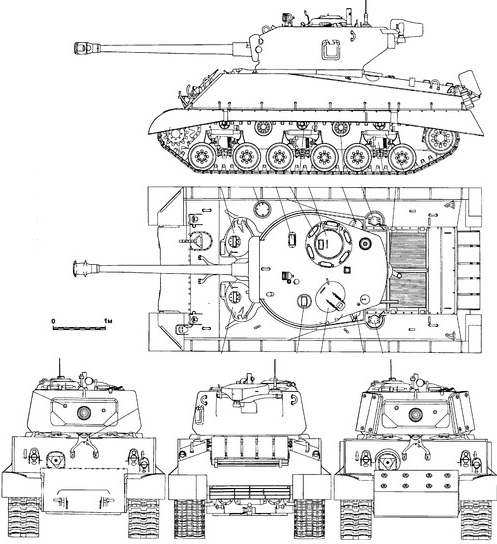 length 6,274m (without gun), width 2,997m, height 2,972m

weight 35 300 kg

frontal armour thickness up to 90 mm

propulsion Ford GAA V8 petrol engine with 518 hp

5 forward + 1 reverse speed

maximum speed 40 km/h

range 160 km

wading distance 1.07 m

main weapon L/55 M1A12 17 cannon 76 mm calibre

number of rounds 71

secondary weapon Browning M2HB machine gun 12.7mm calibre (600 rounds) + M1919A4 machine gun 7.62mm calibre (6250 rounds)

turret rotation speed of 360° is 15 s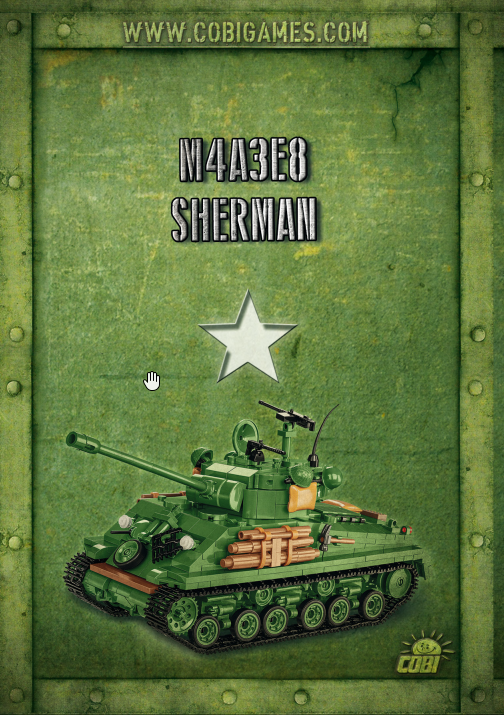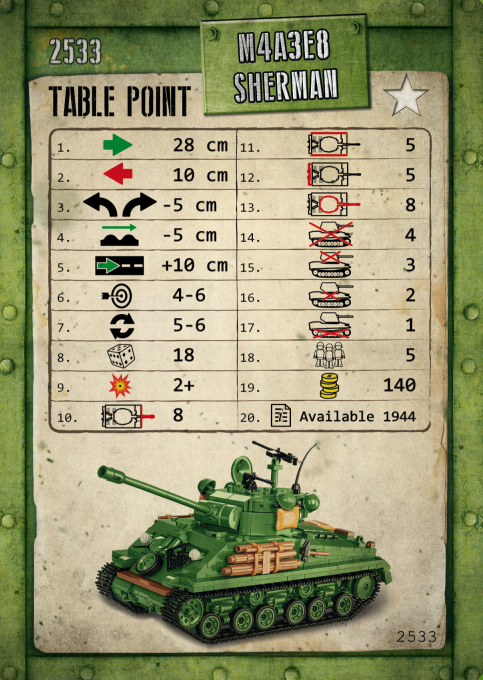 60s review
At this point we exclusively bring you the assembly instructions, which give our customers an idea of the difficulty of assembly (children usually have no problem), or in case the original instructions inserted in each package are lost.
https://www.cobishop.cz/